Coppin
State
University
Softball
Field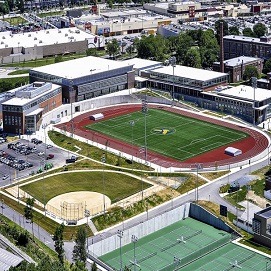 Boulevard completed renovations to the existing softball field to include two new dugouts designed to NCAA standards with storage, ...
lighting, power outlets and team benches.
The existing spectator bleachers were replaced with new bleachers and new netting for foul balls on the two street sides of the field to match the existing system. Coppin State University is an institution that has great understanding for student and faculty needs. Throughout the years it has been a pleasure to work with Coppin State University on a number of major and complex projects, and we look forward to working with this wonderful institution again in the nearby future.